The project is initiated by Danish Standard, Danish Maritime, and ReFlow Maritime with support from the Danish Maritime Fund. The project is governed by a steering committee to oversee the progress and financial spend. 
Danish Standards is the national standardization organization in Denmark. We contribute to the work of the European organizations CEN, CENELEC, and ETSI, and the international standardization organizations ISO and IEC. 
As an industry association, Danish Maritime is the meeting place for Danish manufacturers of maritime equipment and ships. The association is therefore active globally, initiating and participating in work nationally, in Europe and the rest of the world for improving the possibilities for maritime businesses.
ReFlow is an environmental engineering firm and advisor for maritime stakeholders. Their work within sustainability and circular economy provide a unique insight into decarbonization pathways including energy efficiency.   
Project Lead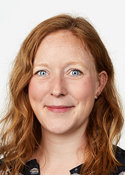 Ditte Klint Heede
email: dkh@ds.dk
Follow us on Linkedin: here